June 2017 research update:
Bio-active compounds in southern California medicinal plants

This project serves as a capstone senior project for Grant Johnson, a University of San Diego undergraduate student. The project is overseen by Dr. Kevin Curran, a member of the USD Biology Department.
Summary of project:
Plants used in traditional medicine are often enriched with chemical compounds that are biologically active in human physiology. These bio-active compounds can interact with cell receptors, ligands or enzymes in various cellular pathways.
Through trial and error, indigenous people living in San Diego County and Imperial County discovered that many plants in their environment conferred a health benefit. The Kumeyaay and the Cahuilla are examples of prominent Native American cultures living in southern California. These people incorporated many medicinal plants into their lifestyle. Descendants of these tribes continue to rely on local plants to maintain their health.
In this project, we are attempting to identify potent extracts and therapeutic chemical compounds from plants that have historically been used for medicinal purposes.
We are currently working with local tribal representatives to develop a community outreach component to this project. Details to follow in subsequent updates.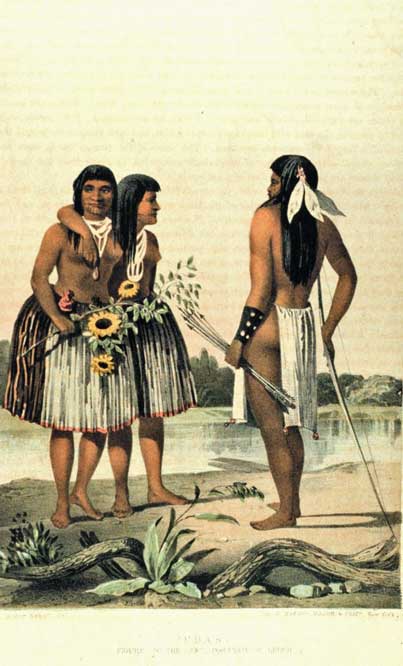 Our bio-active plant compound research program is located on the 4th floor of the Shiley Science Building on the University of San Diego campus.
If you are interested in the protocol details for this experiment, I have posted them here.
Here's a summary of our current research program…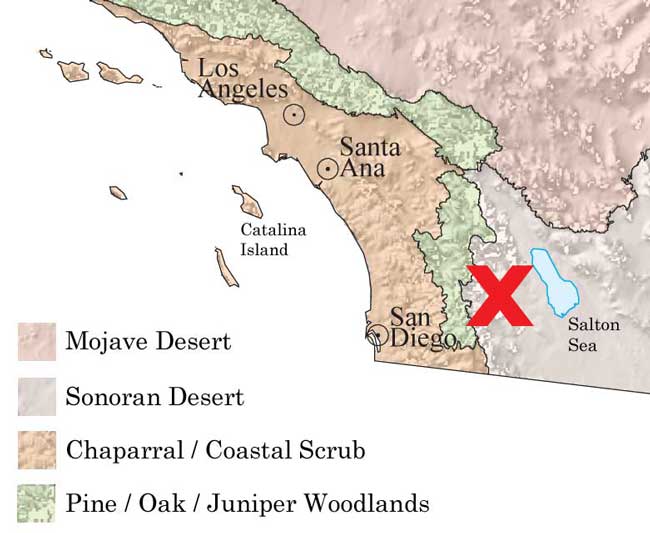 First, plants with a history of medicinal use are gathered from private and public lands in southern California.

Scientific collection permits have been procured for Anza Borrego State Park, Cleveland National Forest and BLM land near Interstate 8 and the Mexican border. We only gather what we need, about a handful of plant material (10-40 grams).

The X on our map broadly illustrates collection sites within chaparral and western Sonoran Desert bio-regions.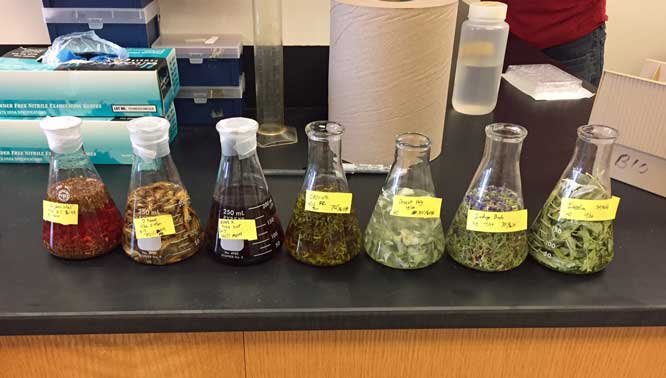 Dried plant material is soaked in 70% methanol. Methanol serves as a general solvent capable of extracting a broad range of chemical polarities.
In this manner, chemical compounds are pulled from the plant matter and moved into solution.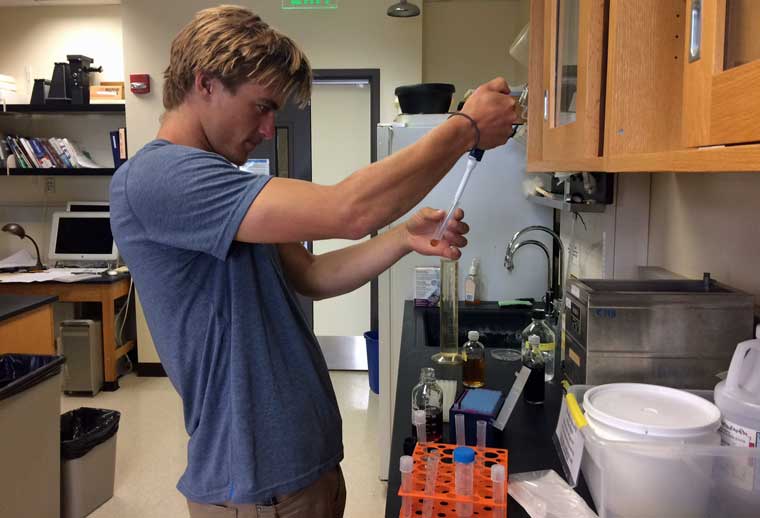 Grant Johnson, undergraduate student in the USD Biology Department, prepares plant extracts.
Brine shrimp, aka 'Sea-Monkeys', are free-swimming, marine invertebrates. They are sort of like tiny, swimming crabs.
We can either grow our brine shrimp in regular salt water or we can grow our shrimp in salt water combined with plant extract. If brine shrimp are incubated in a plant extract that contains potent medicinal compounds, the shrimp will likely die. Any sort of bio-active compound will overwhelm this microscopic crustacean. This experiment allows us to screen through many varieties of plant extracts.
High levels of brine shrimp mortality signals the possibility of a toxic compound or a therapeutic compound. Often the difference between a toxic chemical and a beneficial chemical is a matter of dosage (concentration of plant extract).
Follow up experiments in cell culture are required to determine the specific cellular activity of the plant extracts on mammalian physiology.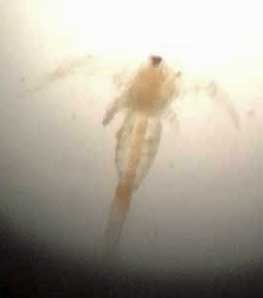 A single brine shrimp…the star of the show.
If kept cool and dry, brine shrimp eggs stay dormant and viable for a long time.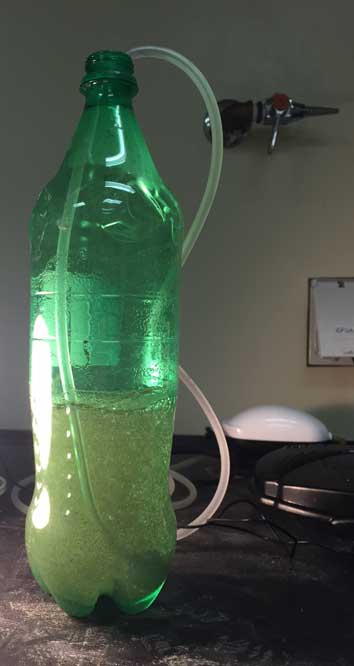 Empty soda bottles are the optimal hatching tank.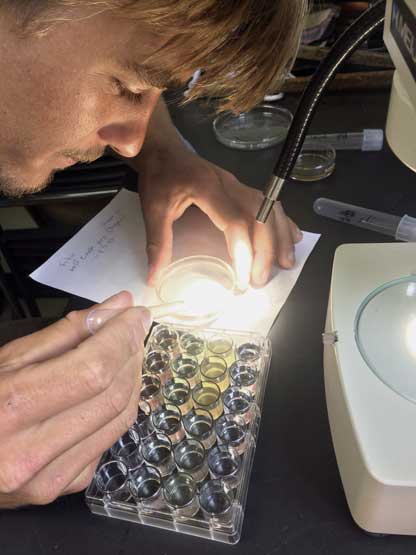 Grant moves 10 brine shrimp larvae into each well of a 24 well plate. 24 well plates allow for the testing of multiple plants simultaneously.
We are currently testing: creosote bush, indigo bush, desert agave, ocotillo, desert holly, elderberry and others. Many of these plants have a rich tradition of medicinal usage. Others are used as negative controls.
To date, we have seen strong bio-activity from the flowers of the desert agave and a few other plants. The desert agave data is a surprising result as I do not know of any prior medicinal usage of this plant tissue. If anyone has any knowledge of the flower petals of desert agave being used for medicinal purposes, please reach out to me.
Data from the brine shrimp assay is very preliminary. One cannot make any specific claims about the type of activity elicited by each extract.
In the near future, we will begin testing our plant extracts on mammalian cell culture assays. In this manner, we can measure more specific parameters, such as anti-cancer or anti-inflammatory effects. Hopefully, our next update will include some cell culture results. Incidentally, if anyone knows of a like-minded chemistry lab that is set-up to fractionate plant extracts, please let me know.
To be continued . . .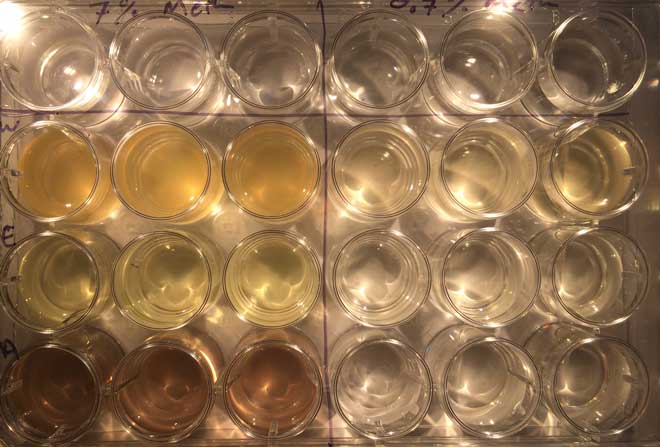 24 well plate filled with various plant extracts and swimming brine shrimp.
Southern California ethnobotany references:
Bean, Lowell John and Katherine Siva Saubel 1972 Temalpakh (From the Earth); Cahuilla Indian Knowledge and Usage of Plants. Banning, CA. Malki Museum Press (p. 150)
Bocek, Barbara R. 1984 Ethnobotany of Costanoan Indians, California, Based on Collections by John P. Harrington. Economic Botany 38(2):240-255 (p. 6)
Castetter, Edward F. 1935 Ethnobiological Studies in the American Southwest I. Uncultivated Native Plants Used as Sources of Food. University of New Mexico Bulletin 4(1):1-44 (p. 10)
Hedges, Ken 1986 Santa Ysabel Ethnobotany. San Diego Museum of Man Ethnic Technology Notes, No. 20 (p. 45)