Medicinal plants and botanical research have a new home at Suanluang Rama IX Park in Bangkok.
Thailand is a nation rich with natural resources. As residents and tourists know, the country has been doubly blessed with tropical islands, lush forests and exotic animals. What is less well known is the breadth of plant life within Thailand's borders. Since the beginning of civilization in Southeast Asia, humans have been culling from the diverse Thai jungles to find plants with medicinal or culinary application. Now, with this new park, part of this story can be shared with the world. A new medicinal plant garden sits in the middle of the sprawling, 900 acre Suan Luang Rama 9 Public Park in the Prawet District of Bangkok. The medicinal plant garden was built in honor of Her Royal Highness Princess Maha Chakri Sirindhorn on Her Fifth Cycle Birthday, April 2, 2015. To commemorate the park, Her Royal Highness visited the park on May 20, 2015. This served as an auspicious beginning to what looks to be a wonderful gift for the people of Bangkok.
Suan Luang Rama 9 Public Park offer a large, quiet space in the otherwise bustling Bangkok city. Residents routinely visit the park both for exercise and to enjoy the peace and serenity that can be found throughout Suan Luang Rama. The park itself is filled with 2,300 species of vines, shrubs, flowering plants, cactus and forest trees. The park was intentionally designed to cluster plants by their ecological and taxonomic organization. For example, there are 40 species of lotus flowers floating in ponds, 70 species of Palmae and 76 symbolic plants representing the 76 provinces of Thailand.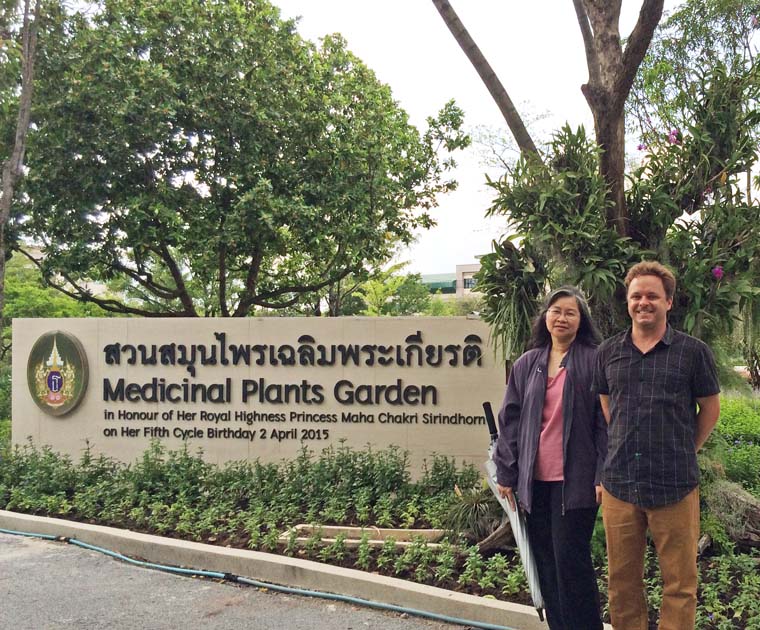 Dr. Thaya Jenjittikul and Dr. Kevin Curran at the entrance to a new medicinal plant garden in Bangkok, Thailand.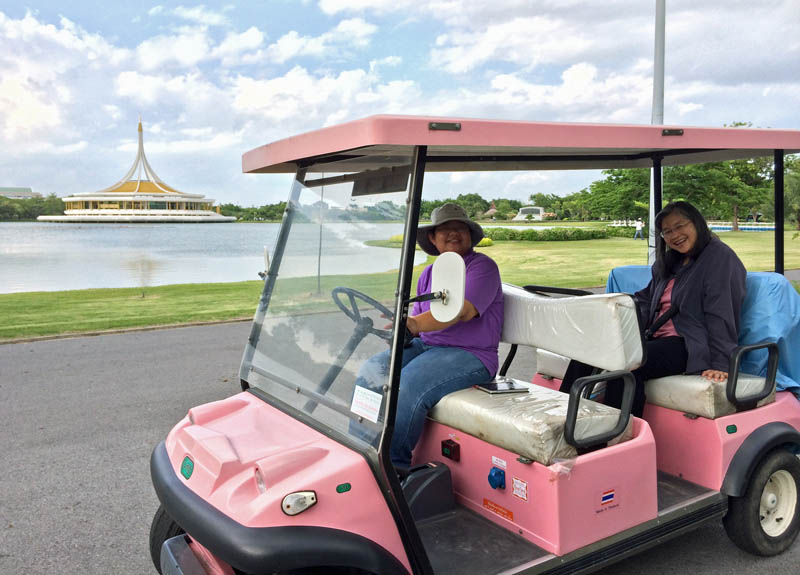 Weeraya Boontia and Dr. Thaya Jenjittikul drive past the spaceship shaped Rajamangkala Hall.
The medicinal plant garden is operated by a friendly and educated crew of botanists. These biologists work with the gardening staff to ensure visitors are inspired and educated by the plant displays. Students from the major Bangkok universities visit the medicinal plant garden as a means to supplement their understanding of botany and traditional medicine.
I was able to tour the garden with a group of very helpful biologists including Miss Weeraya Boontia, Dr. Choosri Trisonthi, Dr. Thay Jenjittikul and Dr. Malee Nanakorn. Dr. Thay Jenjittikul, a professor at Mahidol University and Dr. Malee Nanakorn, a professor at Kasetsart University both serve on the Botanic sub-committee at Suan Laung Rama IX Public Park. These kind botanists took time out of their day to feed me traditional plant-based Thai food and accompany me on a tour of their medicinal garden.
Plants in the medicinal garden are organized by the function they provide to humans. There are sections for diuretics, antibiotics, cooking spices, ext. Thailand has a rich history of incorporating plants and aromatic herbs into their daily life. This is well understood by anyone who has enjoyed a plate of Pad Thai.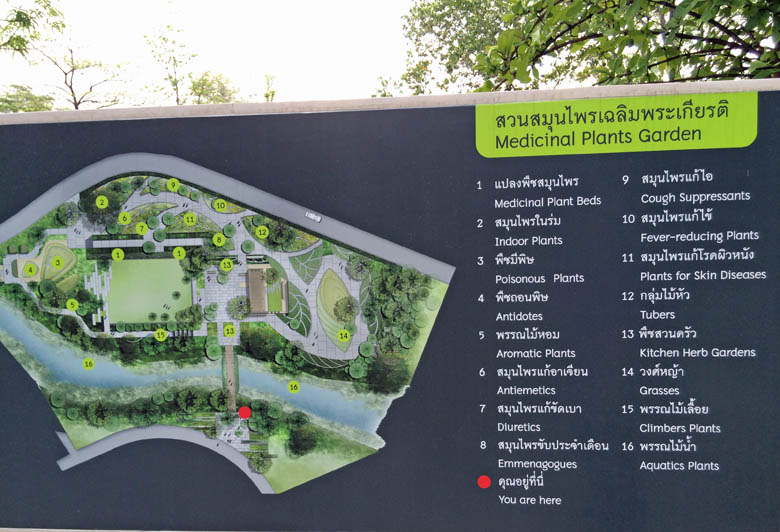 The garden is divided into plant functions.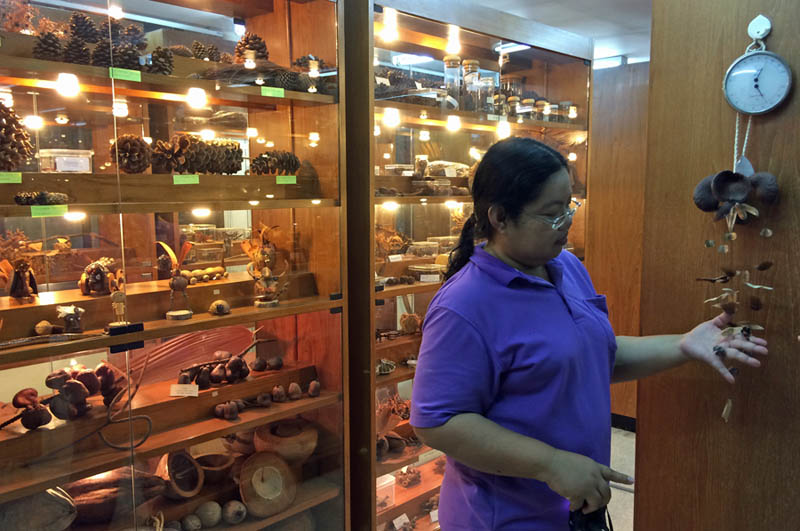 Weeraya shows off traditional, plant-based objects from ancient Siam.
History of Medicinal Plants in Thailand
Indian Ayurvedic principles were first introduced to Thailand during 200-300 BC, as Buddhist monks began arriving and sharing their knowledge. It is believed that even before this moment, native Thai peoples were utilizing their indigenous plants for a multitude of purposes. As the Khmer Empire came into power, the use of herbal supplements and medicinal plants formalized. King Jayavarman VII ordered the establishment of many traditional healing hospitals, or arokaya salas.
Thailand has benefited from many neighboring cultures passing through its land. The Chinese, Egyptians and Indians each left an imprint on old Siam. The Sem Nong Pen Lao and the Ebers Papyrus, both revered ancient herbal texts, have historically served to inform Thai herbalists. This influence from adjacent cultures then spurred Thailand's own internal research into the uses of their native flora.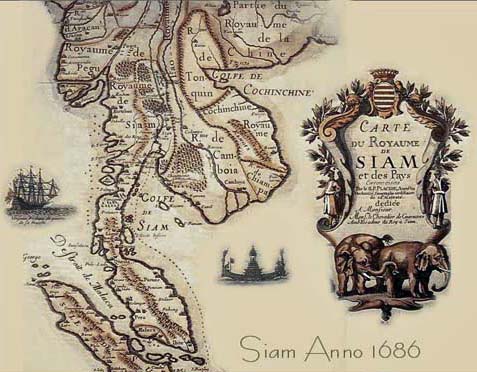 An early map of Siam, the old name for Thailand, drawn up in 1686 as colonial powers were attempting to claim this nation.
Common Medicinal Plants used in Thailand
Morinda citrifolia, also known as Noni, is a tree from the Rubiaceae family, which explains its resemblance to a coffee tree. Noni has a native range that extends throughout Southeast Asia and Oceania. As the fruit ripens, a strong odor emits from the fruit. Yet, despite this smell, the Noni is well loved and is now cultivated across most tropical and sub-tropical nations. The leaves are commonly used in Thai dishes. The Thai meal 'somtam' uses Morinda fruit as a vegetable ingredient.
Polynesians routinely use Noni as a herbal supplement. The green fruit, leaves and roots have been used for centuries as a general tonic. Chinese herbalists also endorse the use of Noni roots as a means to alleviate impotence and abdominal pain.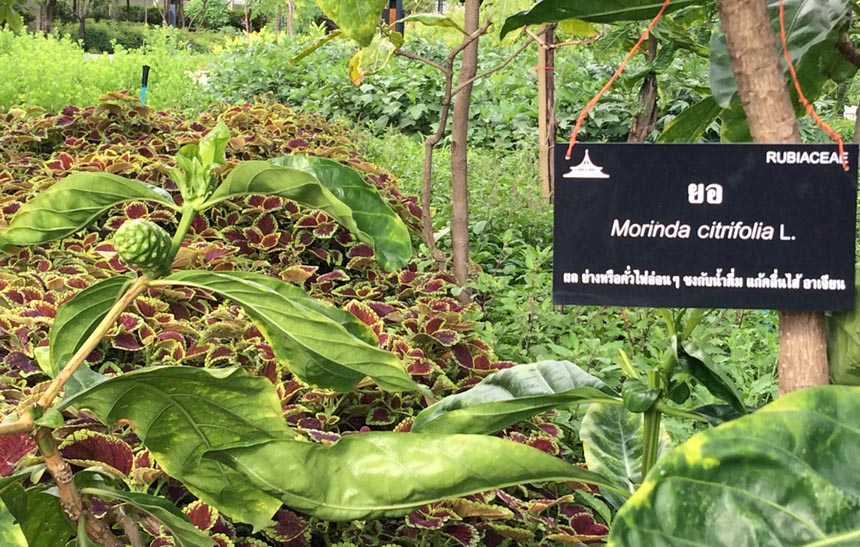 A Noni fruit grows from this Morinda citrifolia tree.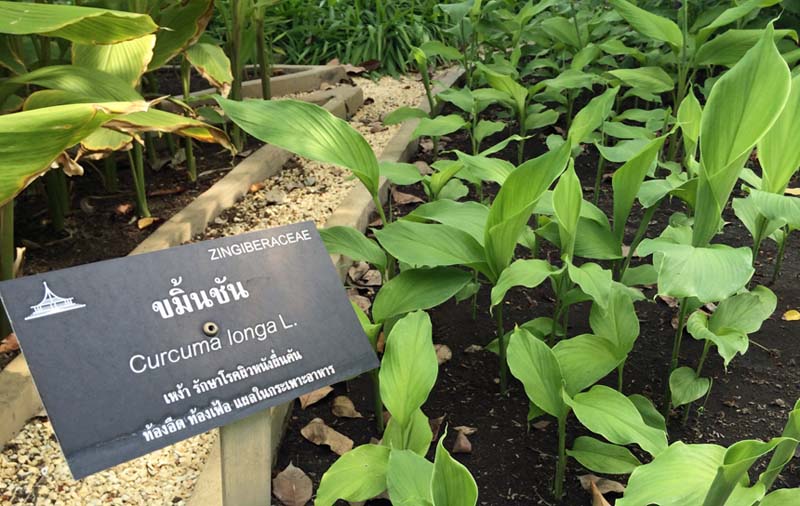 Curcuma longa, or turmeric, originated from Southeast Asia and is now widely used to alleviate inflammation related health problems.
Turmeric seasoning is derived from the orange rhizomes (roots) of the tropical Ginger family plant, Curcuma longa. Turmeric is most commonly used as the pungent, peppery spice in Indian curries. It is now widely accepted that turmeric powder helps resolve many health problems. People with arthritis or other inflammation related issues routinely take turmeric supplements. For more information on the science of turmeric, please read our previous article exploring the use of turmeric for health issues. When cooking meals with turmeric, remember to add a pinch of black pepper to your seasoning. The bioavailability of this plant increases when you add a bit of pepper. This means that curcumin, the active ingredient in turmeric, will more readily move from your stomach into the rest of your body when combined with pepper.
If you are a resident of Bangkok or a tourist spending some time in the city, we do suggest you spend a few hours in Suan Luang Rama 9 Public Park. You'll find plenty of peace and tranquility, which is often much needed after a few days exploring the vibrant center of Bangkok. The park is not located near a train station, but there's many tuk-tuk drivers that will be more than happy to deliver you. And of course, spend some time walking through the new medicinal plant garden. You will quickly learn about all the herbs and spices that contribute to the aroma of your next plate of Pad Thai.
An umbrella catches medicinal fruits.