Ethnobotany of southern California native plants:
Shaw's Agave (Agave shawii)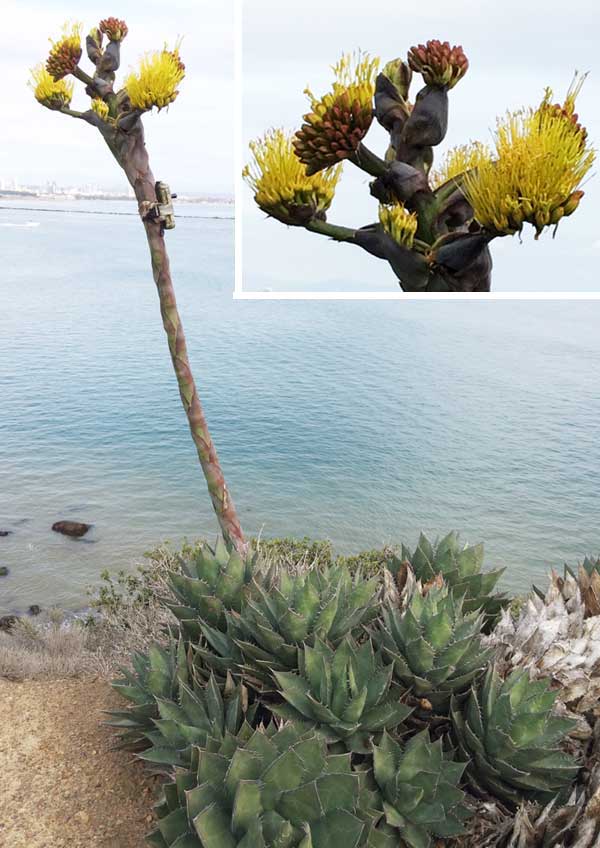 Shaw's agave growing on the bay side of Cabrillo National Park in San Diego, CA.
Shaw's Agave (Agave shawii)
Shaw's agave, also called the coastal agave is native to the coastal regions of San Diego County and Northern Baja in Mexico.
Currently, wild growing coastal agave are very rare. This plant was unfortunate in that its native range overlapped with the border region between US and Mexico. Much of this land has been destroyed to allow the construction of a border wall.
One can still see this plant growing happily at Cabrillo National Monument. Cabrillo Monument is located at the tip of Point Loma in San Diego and consists of the rare coastal sage biome. Unfortunately, aside from Cabrillo Monument, much of the coastal sage vegetation area has been paved over to make way for San Diego and Los Angeles.
Kumeyaay Native Americans living in the San Diego and northern Baja region used this plant for food, tools and clothing. Tough fibers from shaw's agave were pulled from the leaves and matted into rope, shoes and cloth. The large flower stalks were roasted and eaten.
On our main ethnobotany page, we present a clickable list of the southern California native plants that became a part of the culture of Native Americans and early European settlers. These plants were used for medicine, food, shelter, drink, tools and art.
Warning: The information about plants on this website is intended for general educational purposes only. The author of this website accepts no responsibility for problems arising from the user's misidentification, misuse, or use of plants. Please read the full TERMS associated with this website.