Ethnobotany of southern California native plants:
Yerba Santa (Eriodictyon trichocalyx or crassifolium)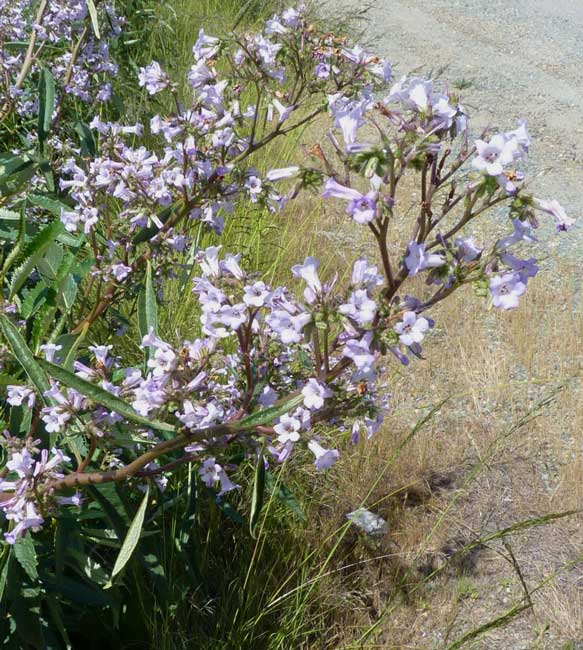 Yerba santa in flower near the side of a road.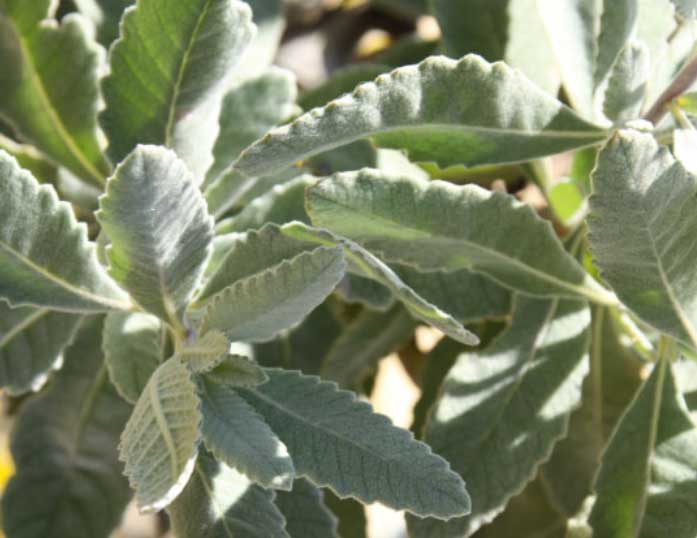 Soft and narrow leaves of yerba santa.

Yerba Santa (Eriodictyon trichocalyx or crassifolium)
Yerba santa is a shrub native to California and Oregon. The plant is ubiquitous and grows comfortably in biomes ranging from chaparral to redwood forests. Standing 1 to 3 meters tall, the yerba santa plant produces narrow, long leaves. Its smaller branches and leaves are coated in a sticky resin that emits a bitter odor. For this reason, the plant is generally not used as livestock feed. This shrub produces a cluster of bell shaped flowers, often light purple in color.
Yerba Santa plant
This Boraginaceae family plant is also referred to as mountain balm and bear weed. The name 'Yerba Santa' was coined by early Spanish settlers in California, they found this plant to be a 'holy or sacred herb.'
Yerba Santa Uses
The Kumeyaay people drank yerba santa tea as a remedy for colds. The Chumash natives, living near Santa Barbara and along the Channel Islands, also used this plant to treat throat and respiratory infections.
Yerba santa contains chemicals that loosen chest mucus. For this reason, the indigenous people of southern California used this shrub for coughs, asthma, bronchitis and loosening phlegm.
Foliage from the yerba santa plant was applied directly to the skin as a poultice. In this manner, the yerba santa uses ranged from a remedy for sprains, bruises and joint pain.
On our main ethnobotany page, we present a clickable list of the southern California native plants that became a part of the culture of Native Americans and early European settlers. These plants were used for medicine, food, shelter, drink, tools and art.
Warning: The information about plants on this website is intended for general educational purposes only. The author of this website accepts no responsibility for problems arising from the user's misidentification, misuse, or use of plants. Please read the full TERMS associated with this website.