The health benefits of cooking with turmeric
Turmeric is the bright yellow seasoning found in Indian curry. This pungent yellow spice is derived from the root of a tropical ginger plant (Curcuma longa) found in Southeast Asia. As Indians have known for a long time, turmeric spice makes food delicious and provides many health benefits. Today people around the world create recipes with turmeric in order to enjoy the pungent, aromatic flavor and to reap the medicinal value.
Scientists study turmeric for its ability to lower inflammation, reduce antioxidants and help fight multiple diseases. It was first noticed that elderly people in India, whom eat large amounts of curry, experience very low incidence of Alzheimer's disease (Ganguli, 2000). Turmeric is the main ingredient in curry spice.
Follow up studies continue to explore the biological connection between turmeric consumption and Alzheimer's. Turmeric has been shown to reduce amyloid plaques and lower inflammation, both factors that effect the progression of Alzheimer's  (Mishra, 2008; Ng, 2006; Zhang, 2006).
We now know that turmeric effects multiple genes in our body's inflammatory pathway. By reducing inflammation in our body, turmeric helps us with multiple health issues.
Scientific studies have explored the manner turmeric improves cardiovascular health, reduces the chance of certain cancers, combats arthritis and acts as an antioxidant.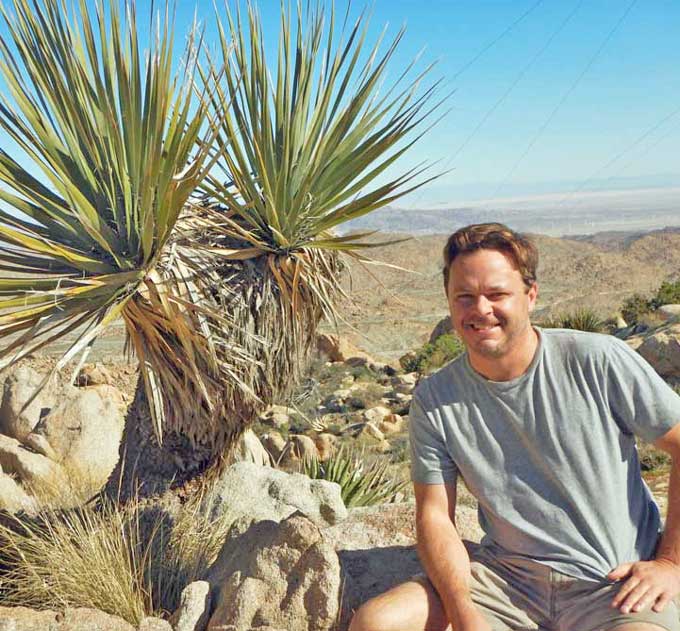 Thanks for visiting the EthnoHerbalist.
My name is Dr. Kevin Curran. I'm a plant scientist and a college professor. My research explores the health benefits of medicinal plants.

Plants fascinate me and I'm happy to be sharing their story with you.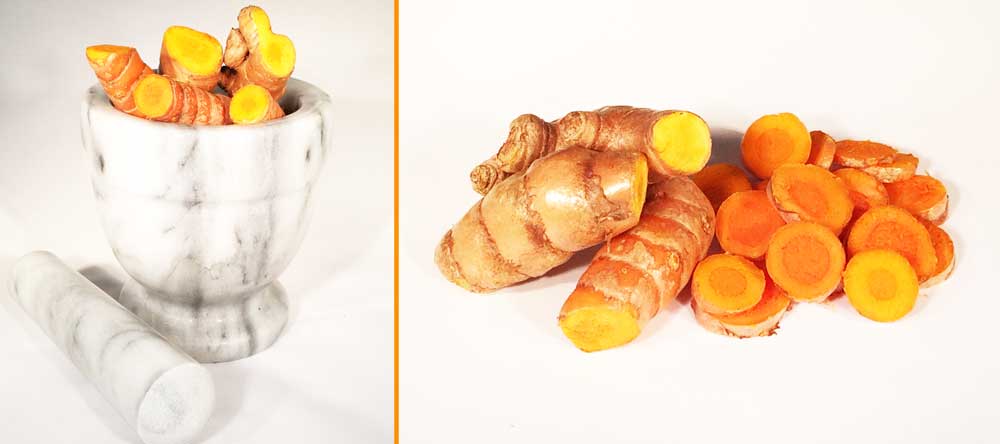 Curcuma longa, a tropical ginger-like plant produces turmeric powder in its thick, orange roots. This delicious Asian spice first became popular as the key ingredient in Indian curry, it's now widely celebrated as a medicinal super-food.

General advice regarding turmeric recipes

Fortunately, there's many easy ways to add turmeric to your diet. This tropical spice has a mildly warm and peppery taste that most people find agreeable. You can sprinkle turmeric into a smoothie or on the top of a salad. The warm flavor of turmeric also compliments mashed potatoes, egg scrambles, frittatas or pan roasted cauliflower and brussels sprouts.
Below, we'll describe some of our favorite turmeric recipes. They are all delicious and quite simple to put together.
Simply Organic is my preference for turmeric spice.
The flavor is consistently excellent. I know and trust this company. They source their turmeric from organically grown Curcuma longa. Simply Organic also returns 1% of their sales revenue back to organic farming causes.
Meat recipes with turmeric
Chicken Korma is a decadent dish from Central Asia. Braised chicken is covered in a sauce consisting of sauteed vegetables, yogurt, spices, mango chutney and nuts. The meal can be eaten alone in a bowl, or served on a plate next to a side of brown rice.
Ingredients (4 servings)
3 tbsp. olive oil
3 tbsp. butter
4 minced garlic cloves
2 tsp. turmeric
powder
1 tsp. chili powder
2 tsp. garam masala
2 tsp. salt
2 chopped onions
6 tbsp. plain yogurt
2 tbsp. mango chutney
4 boneless skinless chicken breast halves, chopped up
1/3 cup sliced almonds
Directions
Preheat oven to 350 F. Lightly grease a 2 quart baking dish.
Melt oil and butter in a skillet over medium heat. Add onions and garlic to skillet, cook till soft.
Combine cooked onion and garlic, yogurt, mango chutney, turmeric, chili powder and garam masala in a food processor and blend until smooth. If needed, add some water or yogurt to thin. Spread chicken into prepared baking dish. Pour blended sauce over the chicken.
Bake in preheated oven for 30 minutes (make sure chicken is cooked sufficiently). Add sliced almonds over the top. Enjoy!
More meat recipes with turmeric coming soon!
Important Hint!
To get the full health benefits of turmeric, make sure to add some black pepper to your meals. Black pepper improves the bio-availability of turmeric. This means pepper helps you absorb the turmeric from your digestive system and into the rest of your body. In general, you should add about 1/2 teaspoon of ground pepper for every 1/4 cup of turmeric. It's easy to premix in the pepper once you buy your bottle of powdered turmeric. If you pre-mix, then you don't need to remember to add in the pepper each time you prepare a turmeric recipe.
I wrote a longer article about the science behind the health benefits of turmeric. In that article, I go into more detail regarding factors to consider when choosing a brand of turmeric.
Turmeric and Yogurt
~ a simple and healthy breakfast or midday snack.



This is an easy one. It just takes a minute to put together and you get all the probiotic benefits of your favorite yogurt and all the medicinal benefits of turmeric powder.
Scoop out a cup of yogurt.
Throw a teaspoon of turmeric on top
Drizzle with honey
Mix and ENJOY!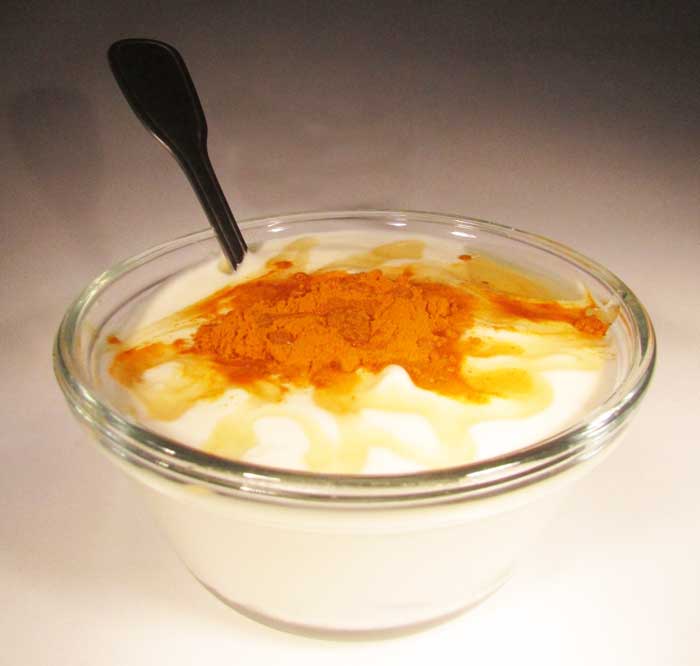 Vegetarian recipes with turmeric
Chana masala is an excellent plant based meal that is very popular in India and Pakistan. This dish is based on chickpeas (garbanzo beans) and is very quick to prepare.
Ingredients (8 servings)
2 tbsp. vegetable oil
2 minced onions
1 tsp. ground cumin
1 tsp. ground coriander
a pinch of salt
1 tsp. cayenne pepper
2 cans garbanzo beans (12-16 ounce)
1 cup fresh cilantro, chopped
2 minced garlic cloves
2 tsp. of finely chopped ginger
6 whole cloves
2 cinnamon sticks, broken up
1 tsp. ground turmeric spice
Directions
Combine oil and onions in a skillet. Heat until soft.
Slowly add in the cinnamon, cumin, ginger, coriander, salt, garlic, cayenne, cloves and turmeric.
Stir while heating, 1-2 minutes.
Pour in can of garbanzo beans with liquid.
Cook/stir for a few more minutes.
Add most of the cilantro before removing from heat.
Garnish with remaining cilantro.
More vegetarian recipes with turmeric coming soon!
Turmeric tea recipe



What is the secret to living to 100? Well, nobody really knows, but it seems eating turmeric may shift the odds in your favor.
A Japanese island called Okinawa is home to a population with the highest percentage of 100 year old people. What is their secret?
Okinawans drink loads of turmeric tea. They love this stuff!
These hardy people also enjoy very low incidence of cancer, stroke, heart disease and Alzheimer's disease. Clearly, the healthy centenarians of Okinawa are reaping the health benefits of turmeric tea.
Directions for a basic turmeric tea recipe

Bring 4 cups of water to a boil.
Add one tsp. of ground turmeric.
Simmer for 10 minutes.
Strain the tea
For flavor, add honey, lemon or ginger.
Looking for more details on how to make the perfect cup of turmeric tea. Here's a nice post that illustrates the benefits of turmeric tea.
Enjoy!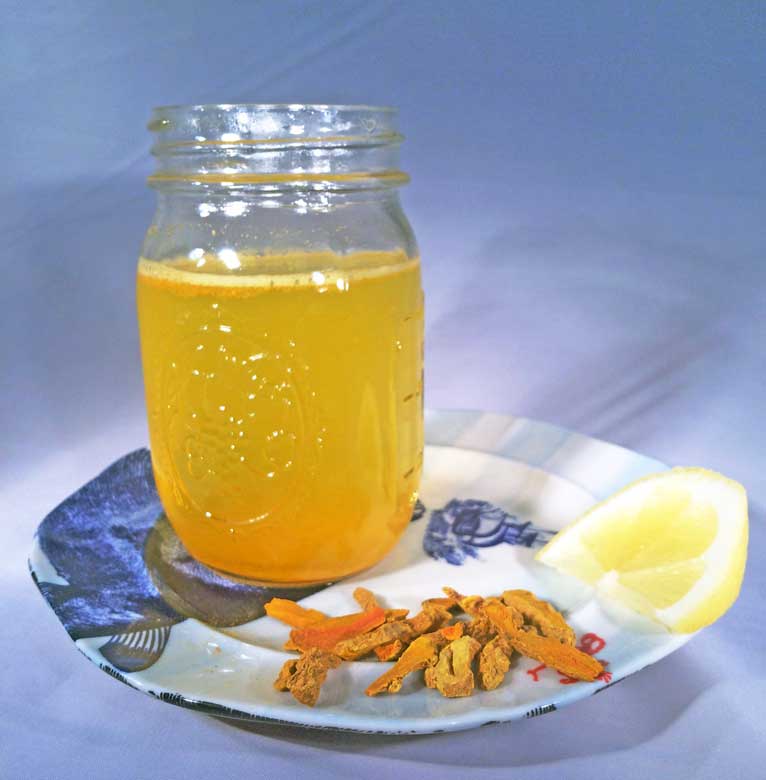 Citations
Ganguli, Mary, et al. "Apolipoprotein E polymorphism and Alzheimer disease: the Indo-US cross-national dementia study." Archives of Neurology 57.6 (2000): 824-830.
Mishra, Shrikant, and Kalpana Palanivelu. "The effect of curcumin (turmeric recipes) on Alzheimer's disease: An overview." Annals of Indian Academy of Neurology11.1 (2008): 13.
Ng, Tze-Pin, et al. "Curry consumption and cognitive function in the elderly."American journal of epidemiology 164.9 (2006): 898-906.
Zhang, Laura, et al. "Curcuminoids enhance amyloid-beta uptake by macrophages of Alzheimer's disease patients." Journal of Alzheimer's disease 10.1 (2006): 1-8.