Ethnobotany of southern California native plants:
Elephant tree (Bursera microphylla)
Bursera microphylla in the Vizcaino Desert.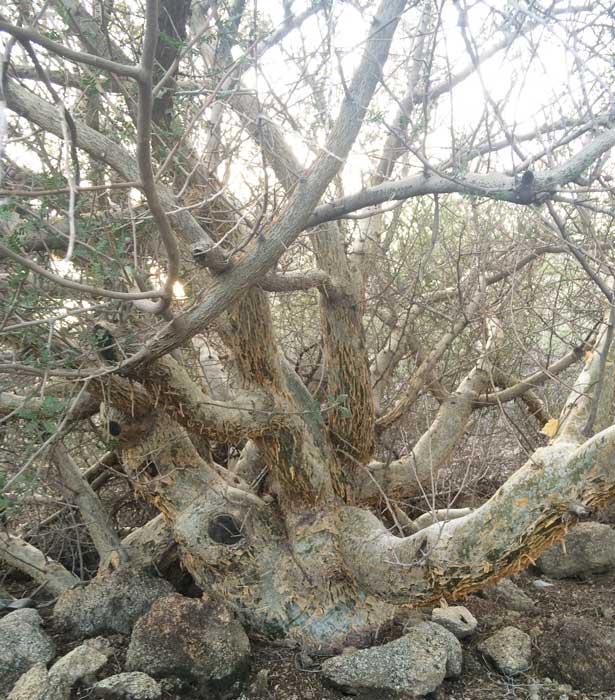 Elephant tree in the winter.
Elephant tree (Bursera microphylla)
The elephant tree is a rare, aromatic tree from a tropical family. The name is a nod to its short and stout trunks and branches. These thick appendages are reminiscent of elephant legs.
The elephant tree displays dull, light-green, oblong leaves about an inch long. The bark is thin and flaky with green and red lower layers.
This unique tree can be found growing in the Sonoran Desert of southwestern Arizona, southern California and northwestern Mexico. Reports of the existence of the elephant tree were few and far between, until in 1937, a population was confirmed in Anza-Borrego State Park, outside of San Diego.
Medicinal use of the elephant tree
In general, Native Americans considered medicine prepared from the elephant tree to be very valuable and powerful. Generally, only the shamans would administer this plant – out of respect for its purported powers. A red sap exudes from the tree and was applied to humans in response to a range of illnesses, including skin diseases. The fact that natives associated this plant with great power, was probably due in part to the commanding presence of the stout trunk and branches. The Cahuilla, from the Colorado desert region of southern California, were among those that used this red sap as a panacea.
The Seri used the wood from the thick elephant tree trunk to construct boxes.
On our main ethnobotany page, we present a clickable list of the southern California native plants that became a part of the culture of Native Americans and early European settlers. These plants were used for medicine, food, shelter, drink, tools and art.
Warning: The information about plants on this website is intended for general educational purposes only. The author of this website accepts no responsibility for problems arising from the user's misidentification, misuse, or use of plants. Please read the full TERMS associated with this website.