Ethnobotany of southern California native plants:
Jojoba (Simmondsia chinensis)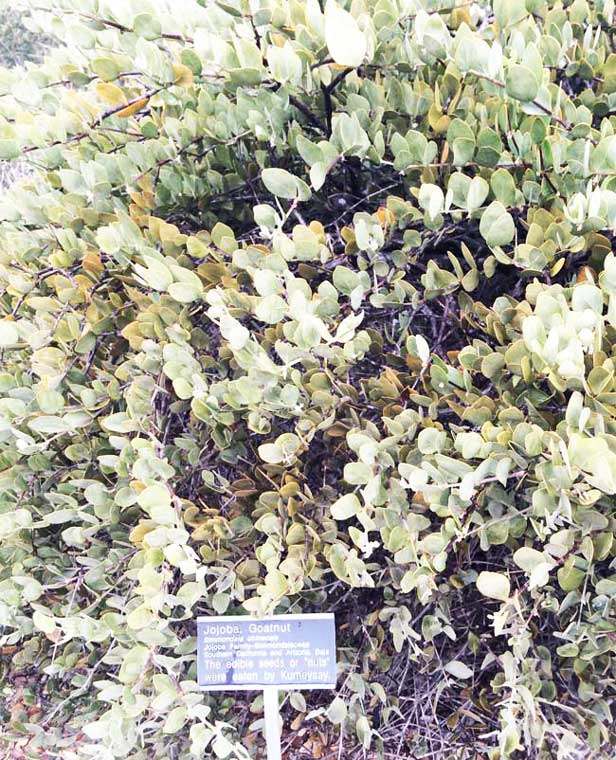 Jojoba shrub near Palm Springs.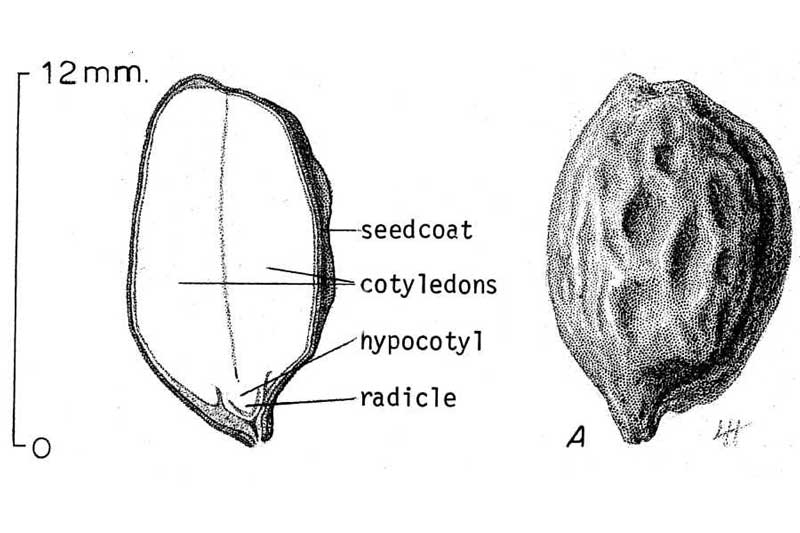 A cross-section of a Jojoba seed reveals the oil rich interior.
Jojoba (Simmondsia chinensis)
The jojoba plant, also referred to as coffeeberry or goatnut, is a woody, perennial bush native to the Sonoran Desert. This plant produces durable, waxy leaves. Jojoba keeps its leaves year round and does not shed in the winter time.
Jojoba produces an oily seed that was used medicinally by Native Americans of southern California. This seed has a hard oval shape of dark brown color (see photo below). The oil content of the seed is approximately 54%. That is a very oily seed!
Jojoba oil benefits
Native Americans collected this seed, then used a mortar and pestle to grind the seed into a buttery paste.
The Cahuilla used the oil paste from the seed to treat sores and wounds. Additionally, the seed was ground into powder and brewed into a coffee like drink.
The Papago people of southwestern U.S. used the Jojoba plant as a dermatological aid. They pulverized the seed and created a poultice of parched seed material. Holding this poultice against the skin helped heal skin issues.
The Kumeyaay hunters from the San Diego region ate Jojoba seeds on the trail to hold them over between meals.
The Seri people, who ate most of the edible plants in their territory, were not fond of the Jojoba seed. They would only resort to eating jojoba in an emergency.
The O'odham people applied the buttery jojoba paste to their skin and hair to heal and condition. They also treated skin lesions and burns with a Jojoba salve.
Jojoba seed oil
Currently jojoba is being cultivated as a renewable source of high quality oil. Jojoba oil is a liquid wax ester, which is highly sought after. This specific type of oil consists of an exceptionally long carbon chain. The world now enjoys multiple jojoba oil benefits. As many as 300 industrial oils have been generated from the seed of this plant species.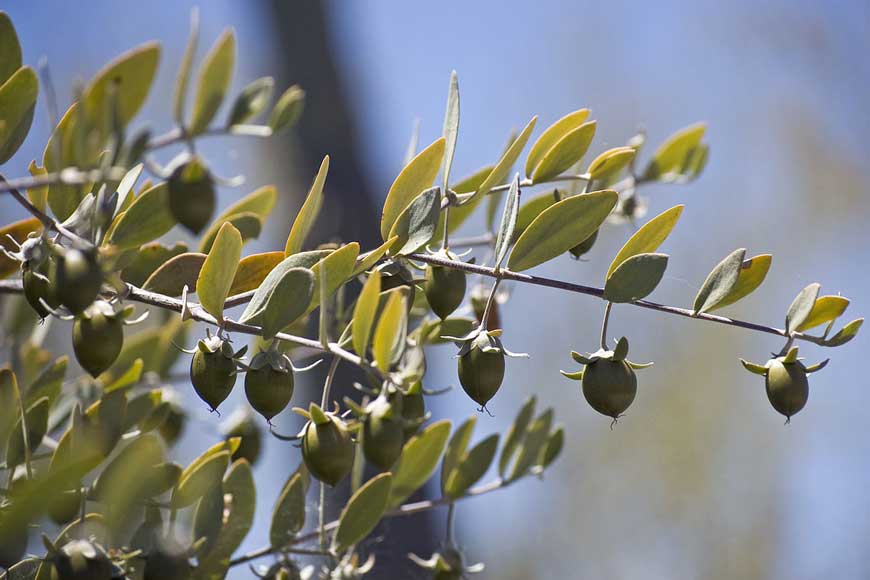 photo credit: Kenneth Bosma CC BY 2.0, via Wikimedia Commons
Seeds from a female jojoba bush
References:
Barrows, David Prescott 1967 The Ethno-Botany of the Coahuilla Indians of Southern California. Banning CA. Malki Museum Press. Originally Published 1900 (p. 74)
Castetter, Edward F. and Ruth M. Underhill 1935 Ethnobiological Studies in the American Southwest II. The Ethnobiology of the Papago Indians. University of New Mexico Bulletin 4(3):1-84 (p. 65)
On our main ethnobotany page, we present a clickable list of the southern California native plants that became a part of the culture of Native Americans and early European settlers. These plants were used for medicine, food, shelter, drink, tools and art.
Warning: The information about plants on this website is intended for general educational purposes only. The author of this website accepts no responsibility for problems arising from the user's misidentification, misuse, or use of plants. Please read the full TERMS associated with this website.