Ethnobotany of southern California native plants:
Teddy Bear Cholla (Cylindropuntia bigelovii)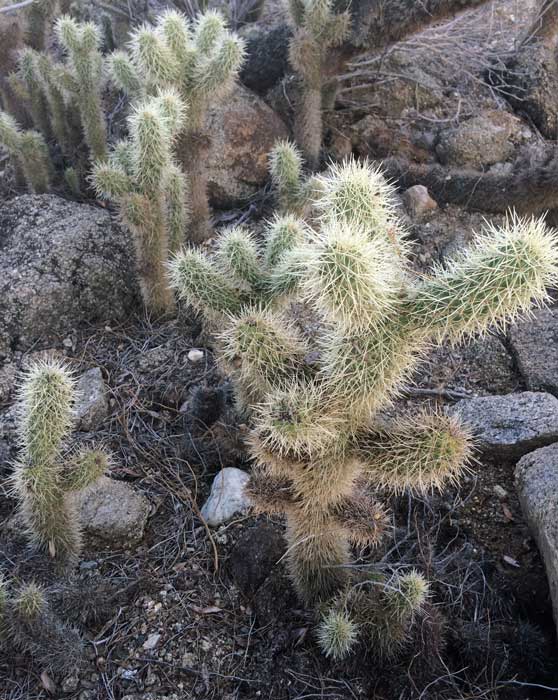 The spiny branches of the teddy bear cholla.
Teddy Bear Cholla (Cylindropuntia bigelovii)
This is a common cactus throughout the southwestern US states and northwestern Mexico. The teddy bear cholla earned its nickname because of the seemingly soft blanket of silver, white spines covering its branches. These 1 inch spines are actually anything but soft and, in fact, form an impenetrable fortress around the cholla, preventing animals from eating its flesh.
Teddy bear cholla is found in alluvial fans, benches and lower slopes below 3,000 feet. The species is also referred to as 'jumping cholla', because of its propensity to hop onto travelers as they brush up against it's spiny branches. In this manner, the plant distributes itself.
Food from the teddy bear cholla
Teddy bear cholla buds provided food for the Cahuilla natives of the Sonoran Desert in southern California. The young cactus branches, or buds, were plucked then cooked. Once cooked, the teddy bear cholla cactus pads could be dried and stored as indefinite food stores.
Spines from this cactus were employed as needles for sewing.
Teddy bear cholla wood is extremely combustible and makes an excellent starter material for a campfire.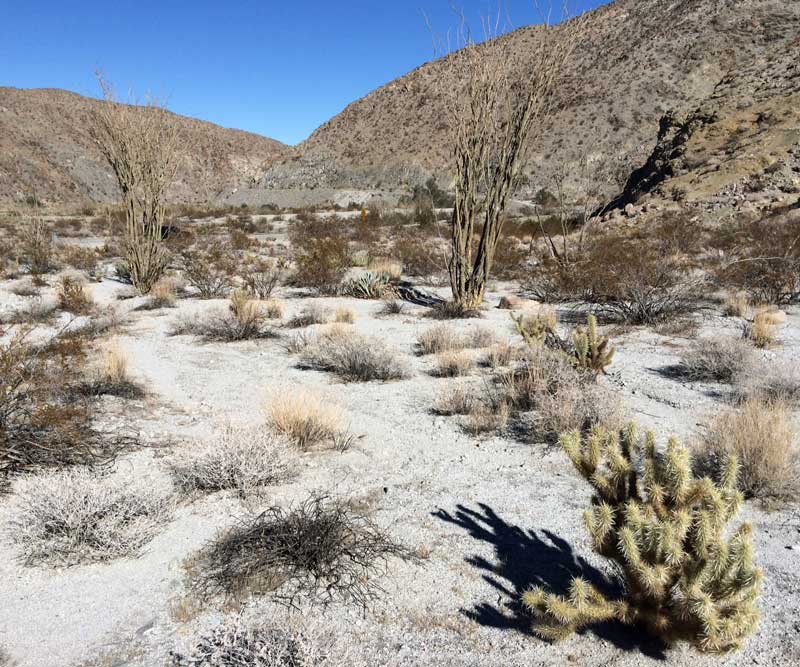 Teddy bear cholla in Anza Borrego State Park.
References:
Castetter, Edward F. and Ruth M. Underhill 1935 Ethnobiological Studies in the American Southwest II. The Ethnobiology of the Papago Indians. University of New Mexico Bulletin 4(3):1-84 (p. 46)
On our main ethnobotany page, we present a clickable list of the southern California native plants that became a part of the culture of Native Americans and early European settlers. These plants were used for medicine, food, shelter, drink, tools and art.
Warning: The information about plants on this website is intended for general educational purposes only. The author of this website accepts no responsibility for problems arising from the user's misidentification, misuse, or use of plants. Please read the full TERMS associated with this website.