Ethnobotany of southern California native plants:
Yerba Mansa (Anemopsis californica)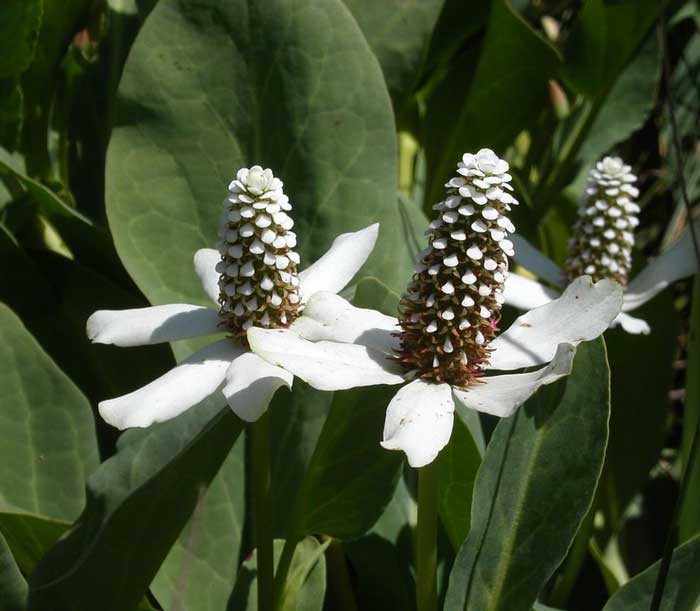 Iconic white flowers of yerba mansa surrounded by large white bracts.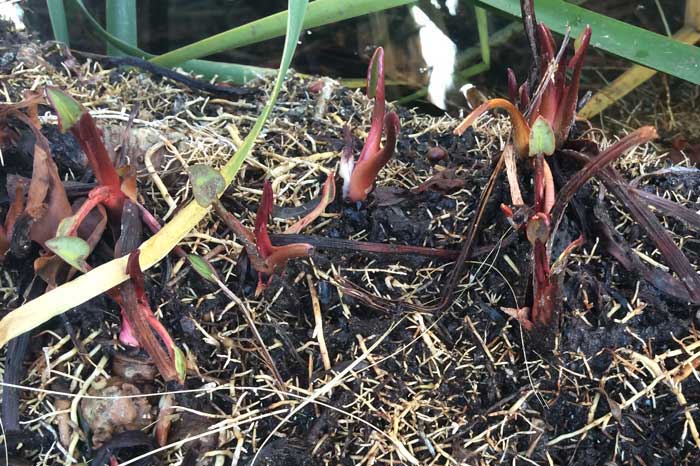 Yerba mansa in the winter
Yerba Mansa (Anemopsis californica)
Yerba mansa is the only species in the Anemopsis genus. The plant is also referred to as 'lizard tail'.
This perennial herb can be seen growing in wet alkaline soils below 6,000 feet. The plant is recognizable by its dramatic spike of white flowers that surface in the spring. This inflorescent spike of flowers is surrounded by large white bracts. These bracts are often mistaken for white petals.
Yerba mansa uses
This herb is versatile. Native Americans in southern California used yerba mansa for different applications. Most notably, the plant was used as a disinfectant. The plant functioned as an anti-bacterial, an anti-fungal and a general anti-microbial. A powder of dried root was sprinkled on infected cuts to keep them clean. The Cahuilla people of the Mojave Desert used yerba mansa to disinfect cuts related to knife wounds.
The Cahuilla also applied the plant to promote the growth of new skin after a wound.
Yerba mansa benefits
Yerba mansa was also used as a douche. A tea made from the roots was used to treat venereal sores. Apparently, yerba mansa can fight vagainal candidiasis.
Similar to goldenseal plant, yerba mansa has been used to treat inflammation of the gums, throat and mucous membrane. This anti-inflammatory effect was also applied towards arthritis issues.
This herb can be administered as a tea, a tincture or dried and eaten. The plant is still popular in Las Cruces, New Mexico, where people make a poultice from the leaves to address muscle swelling and inflammation.
Yerba mansa has a peppery taste and odor.
Interestingly, the word 'mansa' means peaceful and calm in Spanish. However, there are no reported sedative effects derived from this plant.
On our main ethnobotany page, we present a clickable list of the southern California native plants that became a part of the culture of Native Americans and early European settlers. These plants were used for medicine, food, shelter, drink, tools and art.
Warning: The information about plants on this website is intended for general educational purposes only. The author of this website accepts no responsibility for problems arising from the user's misidentification, misuse, or use of plants. Please read the full TERMS associated with this website.